Exploring Gandoca Manzanillo Refuge with Kids
Last updated on September 14th, 2023
Costa Rica, renowned for its lush landscapes, is home to numerous national parks that showcase the country's dedication to conservation.
Among these treasures is the Gandoca Manzanillo Wildlife Refuge. It's a must-visit for every type of traveler, whether they are solo adventurers, families, wildlife aficionados, or hiking enthusiasts.
Situated in Manzanillo, Limón, on the southern Caribbean coast of Costa Rica, this refuge is a perennial family favorite, drawing us back year after year.
General information
When discussing the Gandoca-Manzanillo Refuge, it is important to mention that this refuge was established in 1985.
It spans 3,833 hectares (9,471 acres) of land and 4,436 hectares (10,961 acres) of marine territory on the Caribbean coast, near the Panamanian border.
However, most visitors only explore the Manzanillo sector, renowned for its picturesque Manzanillo Point, white-sand beaches, and excellent hiking opportunities.
Additionally, the Gandoca sector can be accessed from Puerto Viejo de Limón but is not as frequently visited as the Manzanillo sector.
Geography and Climate
The Gandoca Manzanillo Wildlife Refuge plays a crucial role in preserving the lowlands of Costa Rica's southern Caribbean region and protecting birds like the Green Macaw.
The refuge extends between the Rio Cocles and the Rio Sixaola, with the latter marking the border with Panama.
A prominent feature here is the stunning coral reef that stretches from Punta Uva to Manzanillo, attracting divers from around the world.
This refuge stands out as one of the most visually appealing areas in Costa Rica.
Weather in the region can vary, but the best months to visit the Limón area are from August through October. While the Pacific side experiences rain during these months, the Caribbean side enjoys its best weather.
However, during other months, the weather can be unpredictable. Days might start warm and humid but could end with afternoon rains or even continue raining throughout the night.
Wildlife and Biodiversity
The South Caribbean offers the opportunity to observe various mammals, birds, and reptiles.
Additionally, the coral reefs in this region provide a chance to encounter vibrant fish species, including the queen angelfish and blue parrotfish.
The region, characterized by lowlands and hills that do not exceed 115 meters (377 feet) in elevation, is covered by tropical rainforests, which make up approximately 60% of the area, with the remainder consisting of pasture and farmland.
To the south, Manzanillo Point and Mona Point host a vast 400-hectare (988-acre) swamp teeming with aquatic birds.
In the refuge's southeastern area, you can find the mouth of the Gandoca River, which is home to an extensive mangrove swamp dominated by red mangroves.
Schedule, Parking & Entrace fee
The Manzanillo Sector is accessible daily from 8:00 a.m. to 4:00 p.m.
While there's no official entry fee, visitors have the option to make a voluntary donation at Manzanillo. This contribution supports the park's administration.
Upon arriving at the Manzanillo sector, you may not find formal parking. However, local attendants often assist with parking and ensure the safety of vehicles. They typically request a fee of around 2,000 colones (approximately $4 US).
Things to do in Gandoca Manzanillo
The park offers an array of trails suitable for both casual strolls and longer treks.
For a richer experience, consider hiring a local guide. This allows visitors to gain insights into the refuge's heritage, observe local wildlife, and immerse themselves in its diverse ecosystem.
For those dreaming of a tranquil beach day, especially with children, this park is a top choice, as is the nearby Playa Chiquita. A standout feature of these beaches is the tide pools.
These natural pockets of water are perfect for all ages, from toddlers to adults.
During a recent family visit, we enjoyed exploring these tide pools and taking a short hike to the Manzanillo viewpoint.
Bringing along snorkeling gear or even simple swimming goggles can enhance the experience, allowing you to observe the tiny fish within the coral reef.
The path doesn't end at the viewpoint; it continues to reveal untouched beaches and even extends into a challenging 12 km (8 mi) route to the Punta Mona/Gandoca sector.
For adventure enthusiasts, here's a curated list of other thrilling activities to explore:
Bird Watching
Bird watching and wildlife photography are two fun activities that can be enjoyed both inside and outside the wildlife refuge.
Wherever you go in the area, you might have the chance to spot toucans, macaws, woodpeckers, tanagers, or other types of birds.
Even while you are looking for birds, you may also encounter other animals like monkeys, sloths, or reptiles.
For wildlife photographers, we definitely recommend visiting the Ara Manzanillo project, which is a great spot for observing and photographing the Green Macaw.
Alternatively, you can experience a diverse abundance of animals at Cahuita National Park.
Snorkeling and Surf
There are various tour operators in the area that offer different tours for snorkeling, surfing, and various other activities. However, be sure to use a trusted tour operator.
Tours like these can be enjoyed in the Manzanillo area, Puerto Viejo, or even in Cahuita.
Hiking
Hiking is definitely one of our favorite activities.
We have visited Manzanillo several times and have thoroughly enjoyed the trails around the Manzanillo sector.
However, as far as we know, there is a trail that can take you from the Manzanillo sector to the Gandoca Sector.
This trail is apparently well-marked and covers a distance of 12 km (8 miles) one way, starting from the Manzanillo sector, crossing through Punta Mona, and ending at Gandoca.
Although we personally haven't done it, you can check the app called Wikiloc, which is perfect for finding trails in Costa Rica and around the world. You will notice that several people have registered this hike on the app, making it easier for you to track and follow.
In addition to this hike, we highly recommend other options such as hiking to the Punta Uva viewpoint or hiking from Cahuita to Puerto Vargas.
There are certainly several options for hiking enthusiasts.
Kayaking
We took a kayaking tour with a local guide at Quebrada Ernesto.
However, we've noticed that other locals offer kayaking tours at the entrance of the Manzanillo sector, or people even kayak at the larger Gandoca lagoon.
No matter where you go kayaking, it's definitely a great way to spot animals.
Tip: If you don't want to do a guided kayak tour, you can rent a kayak at Sloth Point in Punta Uva.
Getting There and Around
By Car Rental: ​​​​​​​Getting to Manzanillo by car from Puerto Viejo could take around 20 minutes, covering approximately 13 km (8.2 miles).
A 4WD vehicle is not necessary since the main route is completely paved. However, it's important to drive carefully because there are lots of pedestrians and cyclists, so please take your time.
If you are considering renting a car and driving in Puerto Viejo, you can check for discounts with Adobe Rent a Car, which is one of our trusted providers and actually has an office in the center of Puerto Viejo.
Note: There are no gas stations in Puerto Viejo or Manzanillo. However, about 5 km before Puerto Viejo, you can find a gas station in Hone Creek.
By Bus: Transportes MEPE is the local bus company, so you can visit their website for more information.
By Bike: Many locals and foreigners prefer to rent bikes for transportation around Puerto Viejo, Manzanillo, and the surrounding beaches. Hotels rent their own bicycles, or you can find other options in the area. Note that almost all the bikes have no gears and pedal brakes. Make sure you always lock your bike. Prices are very reasonable, generally ranging from $5 to $10 per day for basic bikes.
By Taxi and Tuk Tuks: Taxis (red-colored cars) are the official cabs around the country; however, you can find alternative options such as Uber and unmarked taxis. Puerto Viejo and the surrounding areas are no exception. It's quite common to see tuk-tuks as another transportation option.
By Scooter or Motorcycle: There are places where you can rent small motorcycles like the Honda Navi or scooters, so these are definitely another option.
Staying in Gandoca Manzanillo
As Manzanillo village is located at the end of the road, this little town remains a vibrant outpost of Afro-Caribbean culture and has also remained pristine, thanks to the establishment of the Gandoca-Manzanillo Wildlife Refuge in 1985.
This refuge includes the village and imposes strict regulations on regional development.However, lodging options vary and include hotels, vacation rentals like Airbnb, and more. Some of the options are:
Almonds and Corals
Cabinas Yamann
Colores Seafront
El Colibri Lodge
Faith Glamping Dome
Practical Tips and Recommendations
Definitely, the Caribbean is not for everyone, as there are no international chain restaurants, luxury resorts with poolside drinks, and golf courses.
So, make sure you have the right vibe. This is the most important tip for visiting the South Caribbean area. Instead, you can hear reggae music playing around the town and even while you are sitting at the beach.
Now, here are some important recommendations:
Don't be a victim of crime: Some years ago, locals talked about the Caribbean being dangerous and having a lot of crime. However, things have changed over the last few years, and even though crime can happen anywhere in Costa Rica, the reality is that taking safety precautions is important anywhere in the country. This includes taking care of your belongings, staying in groups if possible, or having the sense that locals could be friendly but not necessarily trustworthy if you don't know them well.
Water Safety: Beaches can be tricky, so ask locals or the hotel about the conditions of the ocean. Not all beaches are patrolled by lifeguards​​​​​​​.
Travel Insurance: In case of any accident, make sure to have travel medical coverage.​​​​​​​
Take care of tropical diseases, like Dengue fever (Use mosquito repellent).
Drinkable Water: Ask the hotel receptionist or vacation rental owner if the water is drinkable. Otherwise, we recommend buying a 5L bottle of water at the supermarket
Conclusion
Gandoca-Manzanillo Wildlife Refuge is a must-add to your Costa Rican bucket list! With kid-friendly tide pools and serene, uncrowded beaches, it's the perfect spot to create those unforgettable family memories.
And the fun doesn't stop there! Nearby locales like Puerto Viejo and Cahuita are buzzing with adventures that the whole family will adore.
Need some guidance? Dive into our detailed guides. And hey, if you're feeling a bit overwhelmed about kickstarting your Costa Rican journey, give us a shout! We're here to help craft the perfect itinerary – and guess what? It's on the house. Let's make those family vacation dreams come true! 🌊🌳🦜🏖️👣
Guide to Spotting Macaws in Costa Rica
Macaws in Costa Rica are more than just stunning birds; they grace our skies as our air force.
These brightly colored birds are some of the largest members of the parrot family.
Unfortunately, they are among the most threatened birds not only in Costa Rica but also across Central America
Overview of Macaws in Costa Rica
In Costa Rica, two distinct macaw species are present out of the 17 found across Central and South America:
Scarlet Macaw
Great Green Macaw
While they belong to the same family, spotting them together in the wild is an uncommon sight.
The Scarlet Macaw primarily inhabits the Pacific coast, whereas the Great Green Macaw can be seen in the Caribbean coast.
Typically, they reside in pairs or small family units. However, on rare occasions, they congregate in large gatherings.
Scarlet Macaw (Ara macao)
Scarlet Macaws have bright red bodies with blue and yellow on their wings. The two primary populations can be found in Carara and the Osa Peninsula, with a few pairs located in Guanacaste and the North Caribbean lowlands.
They inhabit the forest canopy and perch in trees in semi-open areas.These birds have a preference for large fruits and seeds.
They are sometimes seen at beaches, enjoying the fruits of the tropical almond.
They often commute long distances daily between their roosting and feeding sites. While they remain quiet when perched and eating, they can be quite noisy during flight.
Great Green Macaw (Ara ambiguus)
The Great Green Macaw is very large with a green body, wings that are bluish on top and yellowish underneath, and a flash of red in its tail.
They are becoming increasingly rare, primarily found in the Caribbean lowlands and foothills, both in forested and semi-open areas.
These birds travel vast distances in search of fruits from tall trees, especially the wild almond.Unfortunately, they are endangered, largely due to habitat loss.
Hunting and live capture for the illegal pet trade also contribute to their decline.

Where to Find Macaws in Costa Rica
Definitely, spotting the Scarlet Macaw is easier than finding the Great Green Macaw. Based on our experience, we recommend the following places:
Carara National Park or its surroundings: We've personally witnessed a large group of Scarlet Macaw on the trail named "La Meandrica" within the park. During the mating season, we've observed some macaws nesting in tall trees. Moreover, if you're around the Jaco viewpoint, you might spot macaws feeding on almonds.
Corcovado National Park & Drake Bay: This is one of our favorite spots in the entire country due to the abundance of wildlife. As wildlife enthusiasts, we've visited this area multiple times, and spotting the Scarlet Macaws here is quite easy. It's common to observe them around the small town of Drake Bay. If you venture into the Corcovado National Park, you're almost guaranteed to see them, along with many other bird species and animals.
South Caribbean Side: Seeing the Green Macaw has been less common, but we've definitely sighted them when visiting Tortuguero, Puerto Viejo, or Manzanillo. However, it's been a bit more challenging to see them perched in trees.
Ara Manzanillo: If you're visiting Puerto Viejo and Manzanillo, don't miss this stop. Firstly, you'll be supporting a local NGO dedicated to protecting the Green Macaw. Secondly, you'll have an opportunity to see the Green Macaws up close, offering a fantastic photo opportunity. The entrance fee is $20 for adults, while children under 12 are admitted free. Tours run from 3:00 pm to 4:00 pm, so be sure to reserve a spot by calling +506 8971-1436.
Macaw Recovery Network: This project champions the protection of macaws. While we haven't personally visited, they do offer tours for visitors. If you wish to support them, you can also become a donor. For more details, visit their website at macawrecoverynetwork.org.
Tip: Check out the almond trees: If you're on the Pacific side beaches, especially in Jaco, Esterillos, Uvita, or Manuel Antonio, you can boost your odds of seeing macaws by starting with the almond trees. After identifying this crucial food source, keep an eye on the adjacent beaches where macaws come to eat. Remember, timing is essential – these colorful birds fly from their nests to the almond trees in the early mornings and head back to their nests in the evenings.
Conclusion
Macaws are stunning birds that, as a wildlife lover and enthusiastic wildlife photographer, you definitely don't want to miss.
Capturing them in flight or while they're eating is truly a beautiful moment.
However, beyond just photographing them, we've learned from projects like Ara Manzanillo about the significance of protecting these endangered species.
Equally important is educating the newer generations so they can appreciate, care for, and love these birds that have sadly been affected by the illegal pet trade.
For this reason, we encourage you to visit initiatives such as Ara Manzanillo and the Macaw Recovery Network.
Turrialba Volcano National Park: One of the most active volcanoes in Costa Rica!
Last updated on June 4th, 2020
Turrialba Volcano is not the first one to come to your mind when you think to hike a volcano in Costa Rica.
The names of Arenal and Irazu Volcano always show up first and are always busy with tourists.
However, Turrialba Volcano is the second tallest volcano in the country after Irazu Volcano, and in the last few years, it has frequently been in the news because this is one of the most active volcanoes in Costa Rica!
Between 2015 and 2016, Turrialba was responsible for shutting down San José  International airport because of an explosion that launched ashes, gases, and incandescent rocks 13,000 feet into the air.
So, yes, this buddy has kept people busy during recent years, causing the closure of Turrialba Volcano National Park, which is now focused on monitoring and investigation.
But no worries. There are other ways to visit and explore the area through local tourist projects. Maybe you won't see the crater, but you can get pretty close and still be safe.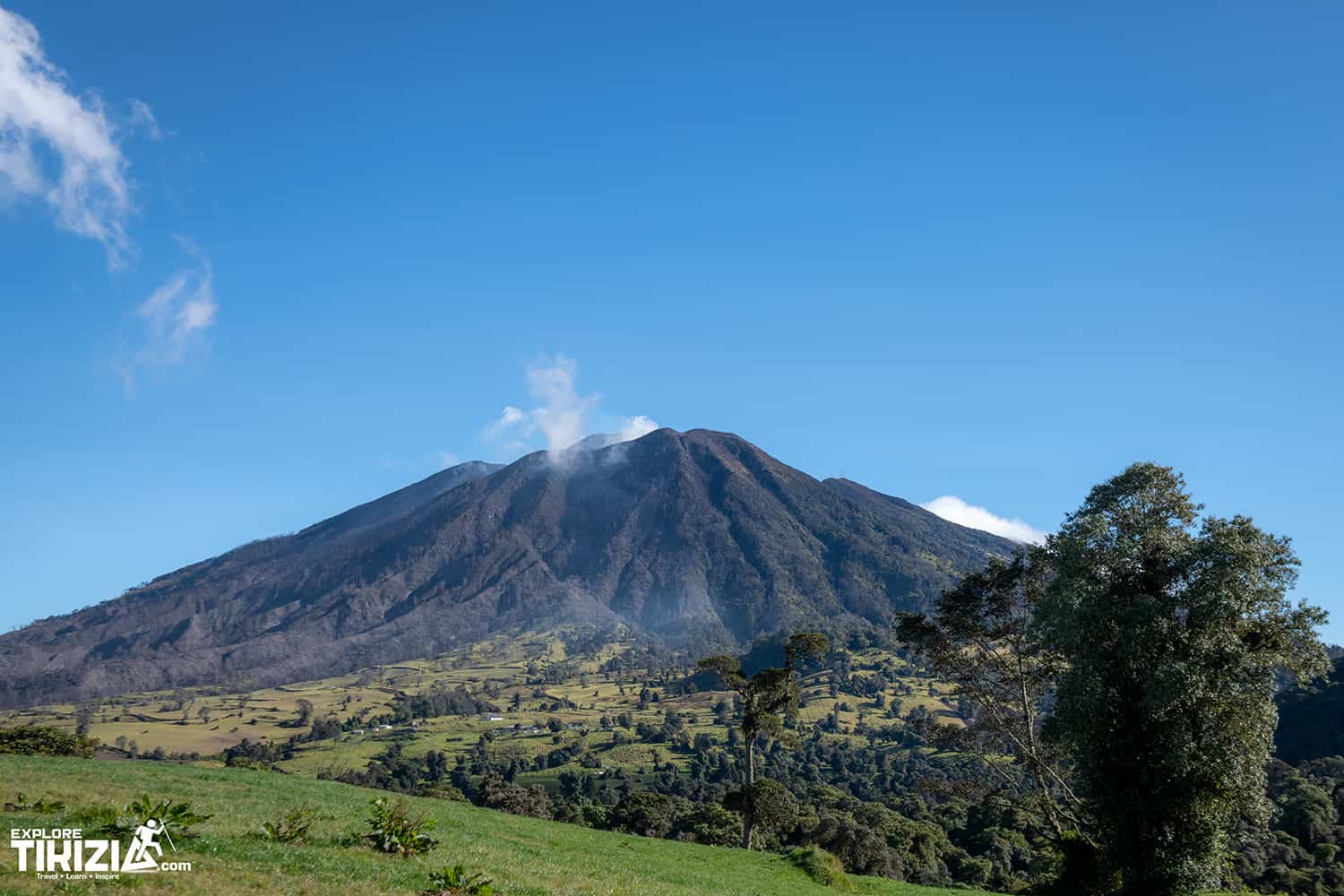 How To Get to Turrialba Volcano
There are 2 common ways to get to this volcano. We took this route:
From San José, take the highway#2 toward Cartago and Irazú Volcano.
Take the exit toward Pacayas and continue to La Pastora.
When you arrive at the Torre Alba soda, turn left and drive up non-stop until you reach Hacienda La Central.
Google maps:
General Information about Turrialba Volcano National Park
The National Park is closed until further notice. But there are other places nearby where you can see the volcano.
Altitude: 3340 meters – 10,919 feet, the second tallest volcano in the country. 
Weather: Temperatures around 16 Celsius (around 60 Fahrenheit). 
Wildlife: Located in the tropical cloud forest. It's hard to see wildlife on the trail that we did, but there are species like coyotes, skunks, squirrels, rabbits, skunks, opossums, sloths, weasels and puma.  Birds like woodpeckers, hawks, goldfinches, tanagers, and hummingbirds.
About Hacienda La Central
The small village of La Central is located at the entrance of the Turrialba Volcano National Park.
It has a few farms, a school, and the Hacienda La Central, the closest private property that has a local tourist project where visitors can hike an area close to the volcano.
It became popular with locals that want to visit the area responsibly since the Turrialba Volcano National Park was closed back in 2012.
There are other tours that promote going beyond the limits of the National Park, but of course we totally discourage you from taking those tours that are risky.
Hacienda La Central is a farm owned by a Costa Rican family who has been dedicated to farming and cattle.
The main cattle field is called La Central,  which today is where visitors meet, as it is near the school, chapel, dairy, grocery store, and the Danza con Nubes cafeteria.
It is a small restaurant, a perfect place to eat one of the typical dishes or just have a coffee, a "freshwater" or an excellent hot chocolate. Its small lawn terrace is the ideal place to observe the Turrialba volcano.
This used to be the meeting point before the ascent to the crater of the Turrialba Volcano began.
Our experience
We made a day trip to this area that has incredible views, especially if you visit during the dry season (December until April).
The light of the sun was perfect to take some pictures, and we got there around 8:00 am. Our hike was arranged to start at 9:00 am.
There were people waking up from their tents, since locals like to camp there.
We went to the restaurant and had a cup of coffee and a hot chocolate. We saw some vendors setting up their products like gloves and wool hats and food also.
More cars were arriving and at 9:00 am. A staff member from Hacienda La Central called everyone's name and gave us some information about the hike.
It's 6 kilometers long and it's a loop.
They took us through a cattle field where you can see views of Irazu and Turrialba volcano.
Then the guide took us to a spot called: "El Hoyo" (The Hole) where there was a small canyon with a river that has changed its color to orange because of the iron from the volcano.
From there is the coolest part of the hike where you can see the contrast of the vegetation and the volcano ash — green and gray.
Nature tries to start over again, but with the ashes and materials from the volcano, it's hard to see life there. The trees are like paper and it smells strongly of sulfur.
We hiked about 20 minutes more through old buildings like an old dairy farm. Then we saw the limits where the Turrialba Volcano National Park area starts. So we were still in a safe area.
It was a big group — mainly locals — and everyone seemed surprised that Ligia was hiking with her 8-month pregnant belly and asking her why!? But the hike is not difficult at all. So everyone can do it.
When we finished the hike we were hungry enough to eat a big tortilla and continue to our next place to visit in the area. 
Important things to take into consideration
Hike Difficulty: Easy but there are no paved trails. Ligia was 8 months pregnant when she did it. 
Vehicle: Sedan is possible during the dry season but we definitely recommend renting a 4WD to Explore Costa Rica.
Camping: For adventurers or enthusiasts of active volcanoes, you can set up your tent there and spend the night to observe the volcano's eruptive night activity. 
Costs: Hike tour ₡ 5000 ($10 US) per person (groups larger than 5 people). / Camping ₡3000 ($6 US) per night per person / Parking Lot: ₡1000 ($2 US)/ Use of Picnic area: ₡ 1000 ($2 US)
What to bring?
Contact information
To make your reservation, you can contact them directly and ask for Hugo who speaks English
Contact: 506- 8414-4682 or [email protected]
Related reading
Guayabo National Monument
Irazu Volcano
5 interesting facts about these Costa Rican ruins
Last updated on August 17th, 2020
There are many ancient ruins sprinkled all around Central America, and Costa Rica is no exception. Even if it doesn't have places like Tikal or Tulum, Costa Rica has places for people that are looking for cultural tours.
I don't know if it's just me, but when I'm in nature or visiting a historical place, I love trying to imagine what it used to be like "back in those days."
Even when it's hard to picture it, it's still fun knowing that the ground we're walking on was once a busy city street or a marketplace to trade stuff. Or that the crumbling ruin I'm looking at used to be the tribe chief's home.
Knowing a bit of history not only helps me imagine what it used to be like, but it is also integral to understanding its cultural significance.
A brief history of Guayabo Archaeological Site
More than just watching old rocks (as some people like to write in reviews on Tripadvisor) this place is an awesome place to learn history.
Some people might tell you that Costa Rica doesn't have culture, but the more we explore, the more we learn more about our country. 
So, here are the 5 main facts we think you need to know before visiting Guayabo National Monument:
The archaeologist that discovered this place back in 1968 was Carlos Piedra Aguilar, known as the grandfather of archaeology in Central America. He thought that it was an indigenous cemetery. Only a small percentage (around 20%) has been excavated.
On the grounds of Guayabo, there have been signs of life dating back from 1,000 B.C. to 1,400 A.D. It was a village for around 2,400 years in total. Researchers aren't entirely sure of the exact population of Guayabo, but they believe that it mostly influenced by the South American native tribe called the Chibchas. Because of the tropical weather, they couldn't find bones to do tests and determine the DNA of the population. 
There is evidence that Guayabo back in those days was a city, let's say like the San José of today. It was an important spot to do business between the people from tribes from North and South America.    
Nerdy fact #4: The Guayabo National Monument was designated in 2009 as a World Heritage of Civil Engineering according to the American Society of Civil Engineers (ASCE). This is because of the technology used to design a network of aqueducts to transport water from a spring in the mountains to the city.  
… And this blog post would be done if the idea was just to share the most interesting things to learn about this place in a short "listicle" style. 
However, my friend, our goal is to share deeply about must-see places that are not that touristy — places you can't find a lot of information about. 
It's easy to find those facts above on other websites, but we're going to walk you through what we did when we visited Hacienda La Central and Guayabo National Monument, because these places might fit with what you are looking for.
Best ways to visit
The Guayabo National Monument is located in Turrialba, where there is also a town that hosts an active volcano (Turrialba Volcano) and the Pacuare River, home of one of the world's best whitewater rafting adventures. 
Take in consideration if you want to do whitewater rafting and also visit the volcano and the ruins will be a better place to stay in the area at least one night.
Tip: We recommend to do the volcano and Guayabo National Monument the first day, then stay in Turrialba and do whitewater rafting the next day.
But if you are looking for more like a one day tour that you can do easily from San Jose, you can do what we did. 
1. General Information:
The land is under the protection of SINAC, same institution that managed the National Parks in Costa Rica.  The primary difference lies National monuments have objects of historical, cultural, and/or scientific interest.
Schedule: They open daily (including holidays) from 8:00 am until 3:30 pm 
Cost: $5 per person Foreign Adults and kids  + Tour Guide service cost (Depends on the number of people)
Access: The monument is located 30 minutes from Turrialba Downtown (around 10 miles away). However, we came from another route that has a road paved for most of it and gets unpaved for a small sections, we always prefer recommend a  4×4 to be safe.
Parking Lot: They don't have one. We have to leave the car outside on the street in front of the entrance and a "wachiman" like we call the guys that help to park and take care of the cars will help you to park in exchange of few coins at the end. 
2. Visiting in the morning or afternoon?
Since we visited during January that is dry season we took the chance to do it during the afternoon and prefer to hike near the volcano in the morning. 
Since the hike at Guayabo Monument is easier even if it's raining in the afternoon is better than do the hiking at Turrialba Volcano when its raining.
3. Should you hire a tour guide?
It's a very personal decision.
However, we read reviews from other people that was worth it since is place with a lot of history. 
The tour guide went beyond our expectations. Martin Umaña was his name and let me tell you he has a heart of anthropologist that really take you back 3000 years ago and just make your visit very special.    
On top of that, we love to support the local association of guides since we know they make a leaving from visitors. 
We would have never learned all this information without one.
They have a office next to the window ticket where you pay your entrance. Also you can learn more about them here: Link
4. Trails:
The trail that we did was around 1.6 kilometers (less than a mile).
 It's pretty easy to walk. It will take around 1 hour and a half. 
There is a small hill to get to the Lookout point but nothing too strenuous. 
The trail is like a loop and pretty easy to follow.
Top Tips for visiting
Where to eat? 
Picnic areas or just a couple local restaurants before  
What to wear? 
Comfortable clothes, 
Closed shoes
Rain Jacket/ umbrella
Insect repellent
Bottle of water
Cap/ sunblock 
Walking stick *Optional
Our Visit to Guayabo National Monument
Preparing for our visit
Wake up early: 
Since we didn't planned to stay overnight, we wanted to kick to spots in one day.
We arranged with Hacienda La Central to take the 9:00 am hike and explore the Turrialba  Volcano area.
So we left San Jose around 6: 15 am and got to Hacienda La Central around 8:00 am  and was perfect to have some extra time to get  breakfast.
Our hike there finish around 11:30 am and rush it a little bit and just grabbing a sandwich to have lunch on the way because we need to be at Guayabo National Monument before 1:30 pm. 
After hiking Turrialba Volcano at Hacienda La Central, we took the route and drive for around hour and  a half  down to the town Santa Cruz de Turrialba and then we got to the Guayabo National Monument. 
From Hacienda La Central to Guayabo National Monument was around 1 hour and 15 minutes.  
Booking  uSure in advanced
We contacted the local Association of Tour Guides uSure and made the reservation to took the tour with a Tour Guide and settle our approx arriving time at 1:30 pm.
Take in consideration that Guayabo close at 3:30 pm so the latest tour will be around 2:00 pm, if you get late they will do a shorter trail of 800 meters.  
If you have Whatsapp it's easier to do the reservation or send a email to them. 
As locals, they required a wire transfer of the entrance into their bank account in advanced but we saw people just walk in and were able to pay as they walk in. 
However, they highly recommend if you want the tour in English to book with at least 8 days in advance. 
Exploring the monument:
After we bought our entrance across the street we saw a little grocery store, use the restrooms and also families were having lunch in the picnic area. 
We hear that you can camp there, if you are interested I am sure the uSureCR the local association can help you with more information. 
So our tour guide, Martin Umaña was there waiting for us and we started the tour talking about the wildlife of the area.
We did spot wildlife like the Toucans, white-faced monkeys and we are sure that in the 573 acres of land that belongs to the monument there is a lot of wildlife protected. 
Then we got the explanation of the artistic manifestations found in the area like the monolith (rock) with the shape of Jaguar and snake. 
The tombs, the aqueduct, the mounds and  just learning more about pre-columbian history the time went fast.    
We left the place with a lot of new information about our ancestors surrounded by a nice atmosphere and the view of the Turrialba Volcano at the back. 
Guayabo National Monument,  definitely is a nice historical spot of Costa Rica. That you can do in a short visit in the middle of the nice countryside. Good for a day trip including other spots around!