Partnership with US opens opportunities for semiconductor industry in Costa Rica – Coyol Free Zone – Costa Rica
The partnership seeks to create a more transparent, secure, and sustainable global semiconductor value chain
The incentives granted under the CHIPS Act in the United States, and a new partnership with Costa Rica, would encourage the demand and development of semiconductors.
The partnership, enabled by the International Technology Security and Innovation Fund, seeks to create a more transparent, secure, and sustainable global semiconductor value chain.
It will begin with a review of the current development of the semiconductor industry in Costa Rica, as well as the regulatory framework, and the workforce and infrastructure needs. The outcome of this review will serve as a basis for future cooperation on developing this critical sector.
This means a whole world of opportunities for companies that want to get involved in exploring opportunities for the diversification and growth of the global semiconductor ecosystem, such as Teradyne, manufacturing automation across industries.
 Such opportunities lie in three fundamental areas: improvement of New Product Introduction (NPI), expansion of customer support, and training of talent.
How will the CHIPS Act improve NPI for the semiconductor sector in Costa Rica?
With increased demand and development in the semiconductor industry, companies could improve their NPI operations.
Teradyne has one of the largest NPI operations in Costa Rica and could benefit from the partnership by making its processes more efficient and effective.
"This NPI process involves the transfer of mature processes and stable products to our manufacturing contractor (CM). A more favorable industry environment could incentivize CM growth in Costa Rica, which would in turn benefit our supply chain and increase the efficiency of our operations," explained Carlos Esquivel, Site Manager and Global SOC Pilot Line Manager of Teradyne Costa Rica.
The industry also expects a rise in demand for Automatic Test Equipment, resulting in a greater need for customer support and in the expansion of some other capabilities.
Talent training for an incipient industry
A growing environment in the Costa Rican semiconductor sector could provide an opportunity to invest more in the training of the current workforce.
"Creating a strong link with local educational institutions, universities, and training centers, may be a key strategy to ensure a steady flow of highly skilled talent prepared to meet the challenges of the semiconductor industry," explained Esquivel.
Investing in higher education, English learning programs, and training for emerging technologies, could be critical for keeping this talent competitive, according to the specialist.
Part of these incentives could be used to cooperate with educational institutions, creating or enhancing advanced education programs in areas relevant to the semiconductor industry, to which Costa Rica currently does not have access at this time.
These educational programs should include undergraduate and graduate programs in electronics engineering, computer science, and other semiconductor and electronics-related disciplines.
"By ensuring that these programs are aligned with the needs of our industry, we can help prepare the future professionals we will need," added Esquivel.
About Teradyne
Global specialists in testing and automation, driving next-generation technologies through sophisticated solutions. Behind every electronic device in the consumer's hands, Teradyne's testing technology ensures that the device works the first time and forever. Together, Teradyne companies offer manufacturing automation in all industries and applications around the world.
2,000 people trained to work in the Life Sciences Industry – Coyol Free Zone – Costa Rica
Courses were taught in the first half of 2023
 August. Four different initiatives developed by Coyol Free Zone enabled approximately 2,000 people to strengthen their skills and abilities to opt for quality employment in the Life Sciences industry or to specialize in their current jobs.
This Park offers an educational effort with social projection called "Coyol Te Prepara" que (Coyol Prepares You), which includes various programs to support people by providing training and employability. One of them is the Manufacturing Operator Course, offered virtually and free of charge to learn about the particular features of the Life Sciences industry, of which 1630 people have taken advantage in the first 6 months of 2023.
Historically, since its launch in 2021, the course has benefited more than 7000 people of all ages and educational levels.
A second program included in "Coyol Te Prepara" is the educational tours. It is coordinated with the educational center and companies in the Free Trade Zone to receive students from high schools and universities with careers related to the medical device industry. The objective is to hold talks and visits to companies to address topics such as the importance of soft skills, English proficiency, technical courses to strengthen their careers, and to build aspirations both in terms of studies and as an excellent place to work.
The students who have been received in this first semester of the year are from towns such as San Ramón de Alajuela, San Carlos, Sabanilla de Alajuela and Desamparados. The Coyol Free Zone companies that have opened their doors to them are: Hologic, SMC Ltda, Segex and Coopervision.
"Our outreach to nearby communities, companies and educational centers is essential for the country, not only as a contribution to our search for talent, but also as a way to promote and awaken their interest in careers related to science, mathematics and engineering, which will have a high placement rate of professionals in the short and medium term", said Carlos Wong, Managing Director of Coyol Free Zone.
In addition, the Park provided training through the National Learning Institute (Instituto Nacional de Aprendizaje, INA) for 181 employees in areas such as quality inspector, information and communication technology operator, English, occupational health, and production supervisor, among others, thanks to an agreement between the entity and the Coyol Free Zone development group.
Within the framework of the current agreement between INA and Coyol Free Zone, a technical assistance program was developed to strengthen the manual and motor skills of potential candidates for the position of manufacturing operator and to become active employees within the companies.
They are joined by a group of 145 people who work in the Free Trade Zone, and joined BachiCoyol, an initiative together with the Castro Carazo University to support Park employees to start or complete the third cycle of high school education and obtain their High School Diploma (Bachillerato por Madurez) through virtual classes.
Coyol Free Zone is also the first free zone to open its doors to Dual Education in alliance with the Ministry of Public Education (MEP). Thanks to the participation of the companies SMC Ltda., CooperVision and Abbott, the students of the Industrial Electronics technical career of the Technical Professional School (CTP) of Atenas are studying their second year alternating between school and companies, a modality that allows them to have the skills and knowledge of companies engaged in advanced manufacturing and production of medical devices.
About Coyol Free Zone
Coyol Free Zone is the leading medical device export park in Costa Rica, exporting over US$2 billion per year, which is equivalent to 30% of the exports of the manufacturing segment of the country's Free Zone Regime.
For the past four years, it has been part of the Top 10 Free Trade Zones in the World, and was named the Best Free Trade Zone in the Americas, in the Top 10 worldwide and Honorable Mention for Environmental Practices, Infrastructure and Logistics, by fDi Intelligence in 2022.
It is also the Best Free Trade Zone in Latin America and the Caribbean for the fourth consecutive year, the Most Innovative Free Trade Zone of the Year, and the Best Business Center for Life Sciences and Advanced Manufacturing, according to The European magazine.
Artificial Intelligence (AI) in the Manufacturing Industry: What does it imply? – Coyol Free Zone – Costa Rica
Nowadays, Artificial Intelligence (AI) is being incorporated into many technologies involved in the smart manufacturing process , including semiconductors, communications equipment, software applications, and platforms.
At Coyol Free Zone, we believe in AI's potential to improve the smart manufacturing industry, associated with the benefits of increasing efficiency and sustainability in many processes.
The influence of AI in manufacturing is growing, with many applications starting to change the way factories and plants are managed.
With AI evolving as a catalyst that may reshape the workforce strategies, roles, and business benefits in our industry in the coming years, all companies should be ready for the challenges related to adopting these technologies.
The current implementation of AI in the manufacturing industry
According to survey results from the "Manufacturing Leadership Council's New Industrial AI in 2030", many manufacturers have just recently started evaluating AI implementation potential.
They also have clear plans to significantly accelerate such adoption in the coming years, with 96% of all surveyed companies expecting a substantial increase in AI investment levels.
The survey shows that 57% of the consulted companies are still in the experimental phase with AI technology, to identify how it can be applied and managed, and what implications it could have for their functions.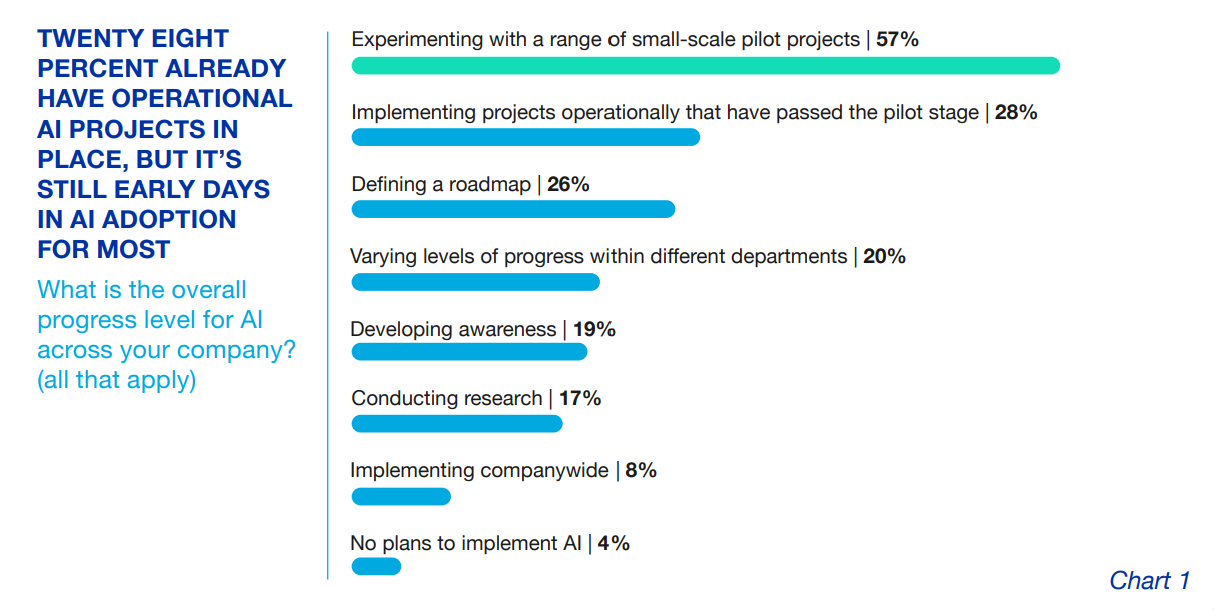 Nevertheless, a significant 28% of the surveyed companies say they are already implementing AI projects operationally, particularly in the fields of manufacturing, production, and inventory management.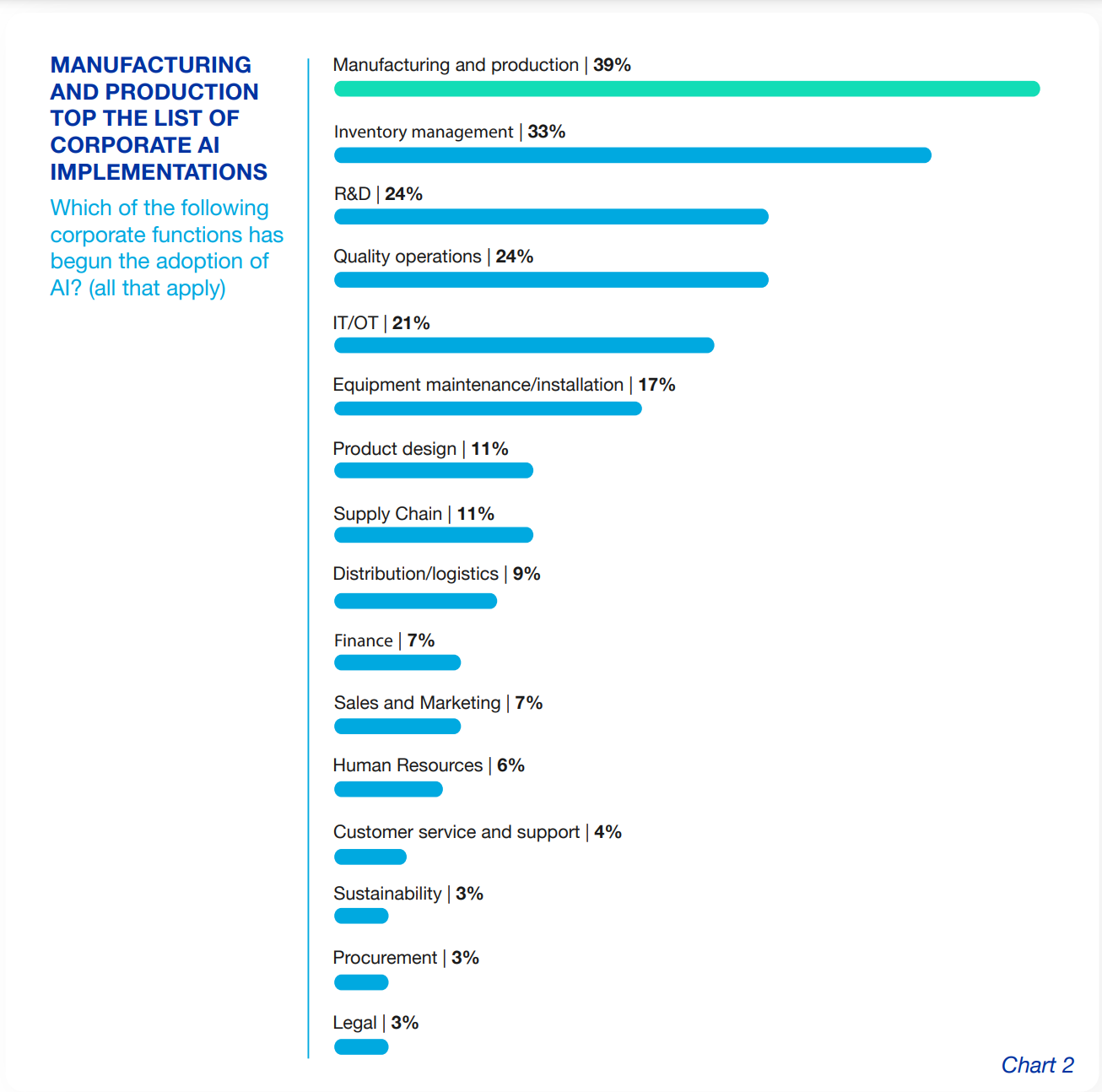 The expected implications and benefits of AI implementation in the manufacturing industry
One of the desired outcomes of implementing AI is to leverage its analytical power to optimize processes, leading to better decision-making, cost savings, improved planning, increased agility, enhanced competitiveness, and sustainability across the company operations.
In terms of benefits for production and supply chain operations, the survey results indicate that the top expected outcomes include improvements in predictive maintenance, more sustainable production operations, and process innovation.
Companies were also asked about the noticeable challenges they believe AI adoption could bring to their environments.
A remarkable 65% of the participants indicated that their main concern is data issues, which include challenges in accessing, formatting, and integrating disparate sets of data, as well as data privacy.
Other concerns mentioned in the survey were the absence of appropriate AI skills among employees, and the need to upgrade legacy equipment.
In terms of workforce impact, 45% of interviewees predict that their workforce headcount will not be affected by the implementation of AI technologies, while 32% expect these changes to increase their workforce headcount, aiming to cope with the availability of new roles in response to upcoming necessities.
Finally, when asked about how significant of an impact will AI have on the manufacturing industry in 2030 and beyond, 59% of the respondents described AI-related implementations as "very significant or game-changing for this industry."
AI manufacturing implementation in industrial park Coyol Free Zone
According to the Manufacturing Leadership Council, the key to fully maximizing the potential of the new trends of Manufacturing 4.0 is the ability to leverage the information from all aspects of manufacturing. This may not only provide a step change in efficiency, cost-effectiveness, and productivity, but also enable business model innovation that can enhance value creation.
This philosophy aligns with our vision at industrial park , where our leadership in sustainable Real Estate development in the Americas, demands us to increase efficiency standards, and guide our suppliers into providing the best quality of products with cost-effectiveness and reduced times.
Alongside our values of innovation, adaptability, and efficiency, we recognize that the implementation of AI in some of our processes will represent an asset in the future, towards our commitment to keep providing innovative solutions to world-class clients.
Nevro Corp's Quest for Environmentally Sustainable Operations – Coyol Free Zone – Costa Rica
The company established manufacturing operations in Costa Rica because it's one of the top 10 eco-friendly countries in the world
October, 2023. Costa Rica's commitment to sustainable development and environmental protection policies and practices has been a significant factor in Nevro Corp to establish its medical device manufacturing operations in our country.
"We chose Costa Rica because, among its other qualities,  it's one of the top 10 eco-friendly countries in the world, with regulations and governmental support," explained Yogi Chitre, Nevro Corp's Manufacturing VP. This decision was also influenced by the country's highly qualified human talent and its expertise in manufacturing medical devices.
The company operates from a 35,000 square foot facility in Coyol Free Zone in Alajuela,  producing chronic pain treatment devices with state-of-the-art technology.
The company currently employs over 150 employees, 60% of them being women and 40% male. "We foresee sustained growth and further expansion in Costa Rica, presenting even more employment opportunities,"stated Juliana Hernandez, Human Resources Manager.
Nevro is Awarded the Ecologic Blue Flag
Nevro Corp's dedication to environmentally sustainable operations earned them the Ecologic Blue Flag in the "Against Climate Change" category. Impressively, they were rewarded with Two Stars already in their first year of operation.
"Since establishing our operations in Costa Rica, we've committed to operating responsibly, seeking to improve our patients' quality of life while staying committed to sustainable practices. The Ecologic Blue Flag award affirms our dedication to environmental sustainability and operational growth." assured Alonso Moya, Site Director.
Nevro Corp is dedicated to ongoing process enhancements to protect and improve the environment.
"We are encouraging our employees to minimize their household environmental footprint, with the hopes of recognition in the Sustainable Homes category", added Luis Pablo González, EH&S Sesion Leader.
The company's environmental initiatives include waste management, implementing sustainable procurement policies, responsible power and water management and participating in activities like planting trees and beach clean-ups.
Carlos Wong, General Manager at Coyol Free Zone, emphasized that their commitment as leaders in Costa Rican industrial park development is to provide clients with world-class real estate development and sustainable industrial practices.
Within Coyol Free Zone, companies benefit from facilities that promote the care and wellbeing of their employees. These include eco-efficient gardens designed and built to minimize the impact on the environment and buildings with sustainable construction adhering to the LEED Certification (Leadership in Energy and Environmental Design). This certification evaluates criteria such as energy efficiency, water management, alternative energy, indoor environmental quality, material selection, and waste management.
About Coyol Free Zone
Coyol Free Zone is the leading Medical Device export park in Costa Rica, exporting over US$2 billion per year, which is equivalent to 30% of the exports of the Manufacturing segment of the Free Trade Zone Regime in the country.
For the past four years, it has been part of the Top 10 Free Trade Zones in the World nd was designated as the Best Free Trade Zone in America, in the Top 10 worldwide and Honorable Mention for Environmental Practices, Infrastructure and Logistics, by fDi Intelligence in 2022.
It is also the Best Free Trade Zone in Latin America and the Caribbean for the fourth consecutive year, the Most Innovative Free Trade Zone of the Year and the Best Business Center for Life Sciences and Advanced Manufacturing, according to The European magazine.