Your Guide to Playa Flamingo in Costa Rica

Introducing Playa Flamingo in Guanacaste Costa Rica
Welcome to your tropical paradise on Costa Rica's Pacific coast. This idyllic beach town in Guanacaste offers natural beauty, warm hospitality, and a laid-back lifestyle. With pristine white sands, turquoise waters, and a pleasant year-round climate, Playa Flamingo is perfect for those seeking a tranquil retirement or a vibrant expat community. The town boasts a welcoming atmosphere, diverse amenities, and a range of recreational activities, including sport fishing, snorkeling, golfing, and exploring nearby national parks. This guide provides valuable insights and practical tips to help you navigate life in this tropical haven. Get ready to immerse yourself in the charm and beauty of Playa Flamingo, where every day feels like a vacation in paradise.
A Brief History of Flamingo Beach
Flamingo Beach, mostly known as Playa Flamingo, is a popular beach on the Pacific coast of Costa Rica in the Guanacaste province, and it's known for its beautiful light pink colored sand and crystal clear waters. "Flamingo" was chosen as the name for this stunning beach because its pink hue is reminiscent of the color of a flamingo bird.
This tranquil beach attracts visitors from around the world for vacationing, sport fishing, and more.  It also attracts real estate investors and retirees.
In the vicinity of Flamingo Beach, there are a number of archaeological sites that suggest that the area was inhabited by indigenous peoples long before the arrival of Europeans. However, the specific history of the beach itself as a site of human activity is not well-documented.
In the mid-20th century (1960's and 70's), due to the government encouraging tourism, Playa Flamingo began to attract attention from international visitors seeking pristine beaches and serene surroundings. With its breathtaking coastline and year-round tropical climate, the town quickly gained popularity as a sought-after vacation spot. As tourism flourished, Playa Flamingo underwent significant development, including construction of a world-class marina, luxurious resorts, upscale residential communities, and modern amenities to cater to the growing influx of visitors. Today, Playa Flamingo remains a haven for both locals and expatriates, offering a harmonious blend of authentic Costa Rican culture and relaxing vibes, making it a true gem on the Pacific coast.
Popular Places to Live in and Around Playa Flamingo
There are numerous places to live in and around Playa Flamingo but here are a few of the most sought after:
The Palms
Located right on Playa Flamingo's pristine shores, The Palms is a prestigious beachfront condominium complex offering luxurious oceanfront residences. With world-class amenities, including a beach club, infinity pools, fitness center, and concierge services, The Palms provides an exclusive and indulgent living experience.
Mar Vista
Situated on a hillside overlooking Playa Flamingo, Mar Vista is a gated community known for its breathtaking ocean views and elegant residences. This upscale development offers a range of housing options, including custom-built luxury homes, villas, and condominiums, all set amidst lush tropical landscapes.
Reserva Conchal
Located just a short drive from Playa Flamingo, Reserva Conchal is a renowned beach and golf resort community. It features an exclusive collection of luxury homes, condos, and villas nestled within a lush, 2,300-acre property. Residents enjoy access to a world-class golf course, private beach club, spa, tennis courts, and various dining options.
Pacific Heights
Offering panoramic ocean views and a tranquil setting, Pacific Heights is a prestigious hillside community near Playa Flamingo. This residential development features spacious lots and luxury estates, allowing residents to build their dream homes while enjoying privacy and natural beauty.
Las Catalinas
Located in Playa Danta, a short distance from Playa Flamingo, Las Catalinas is a pedestrian-oriented town designed to embrace a vibrant and sustainable community lifestyle. It offers a mix of luxury condominiums, townhouses, and homes, along with charming plazas, shops, restaurants, and direct access to beautiful beaches and nature trails.
These are just a few examples of the most popular places to live in Playa Flamingo. We have a much more extensive list of gated communities in the area.  Each offers a unique lifestyle and amenities, allowing residents to enjoy the beauty and tranquility of this coastal paradise.
Grocery Shopping in Playa Flamingo
Super Massai
A well-stocked supermarket located on the way to Playa Flamingo. It offers a wide range of groceries, including fresh produce, meats, dairy products, canned goods, and household essentials.
Super Compro
Super Compro is a chain of supermarkets with a branch conveniently situated near Playa Flamingo. It provides a diverse selection of grocery items, including local and imported products, along with a bakery section and a deli counter.
AutoMercado
Located in nearby Tamarindo, Automercado is a large upscale supermarket known for its high-quality products. It offers a broad range of fresh produce, imported goods, gourmet items, organic products, and a well-stocked wine and liquor section.
MerkDo
A popular place just minutes away in Playa Potrero, this supermarket has a wide array of goods and is popular amongst locals.
Farmer's Markets
Each week, farmers and artists from around the region set up in Playa Flamingo and its surrounding areas. These markets offer an array of fresh produce, locally sourced products, and artisanal goods, providing a delightful shopping experience while supporting the local community.
Popular Outdoor Activities in Playa Flamingo
Scuba Diving
The waters around Playa Flamingo are known for their rich marine life, making it a popular spot for scuba diving. You might find several dive shops in the area that offer PADI certification courses, equipment rental, and guided dive tours. Some popular dive sites include the Catalina Islands and the Bat Islands, where divers can see a variety of marine life, including rays, sharks, and a variety of tropical fish.
Here are a couple options for diving in the Flamingo area:
Sailing
Playa Flamingo has a full-service marina, making it a popular spot for sailing. There are likely several companies in the area that offer sailing tours and charters, which can include activities like snorkeling, sunset cruises, and even fishing. The waters off the coast of Playa Flamingo are known for their beauty, and sailing can be a great way to explore the coastline.
Here are a couple of options for sailing:
Hiking
Costa Rica is known for its lush rainforests and national parks, and there are likely several hiking opportunities near Playa Flamingo. For example, the Rincon de la Vieja National Park is not too far away and offers a variety of trails through the rainforest, where hikers can see volcanic activity, waterfalls, and a variety of wildlife. The Santa Rosa National Park is also nearby and is known for its dry forest ecosystems and wildlife viewing opportunities.
Mountain Biking
Las Catalinas, located near Playa Flamingo, is known for its extensive network of biking trails. The area boasts over 35 kilometers of single-track trails designed for both hiking and mountain biking. The trails are well-maintained and offer a variety of difficulty levels, making them suitable for both beginners and experienced riders.
The trails wind through tropical dry forest, offering stunning views of the Pacific Ocean and the chance to spot local wildlife. The terrain varies, with some trails offering challenging climbs and technical descents, while others are more gentle and flowing.
Offshore Fishing
This is where Playa Flamingo really shines. Its full-service marina provides a launching point for many fishing charters. Offshore fishing trips venture further out into the Pacific Ocean, where the waters are home to some of the most sought-after game fish in the world. Anglers can expect to catch species such as Marlin (both Blue and Black), Sailfish, Yellowfin Tuna, and Dorado (also known as Mahi-Mahi or Dolphinfish).
A sport fishing option for Playa Flamingo area:
And much more…
The above information only scratches the surface of what you can enjoy in the area. We haven't mentioned things such as restaurants, high quality area schools, ATV tours, white water rafting, bird watching… and the list goes on. Playa Flamingo is truly a Costa Rican gem, encapsulating the allure of this Central American paradise with its pristine pink sands, crystal-clear waters, and vibrant local culture. As the sun sets and paints the sky with hues that mirror the pink sand, it's hard not to fall in love with this remarkable place. Whether you're seeking relaxation, adventure, or the opportunity to immerse yourself in nature's splendor, Flamingo Beach promises an unforgettable experience. Undeniably, this breathtaking destination continues to charm visitors from all over the globe, standing as a testament to Costa Rica's well-earned reputation as a dreamy tropical escape.
Be sure to make it one of your stops when investigating living in Guanacaste or buying property.  Many expats call this place home!
Advantages of the Free Trade Zone Regime in Costa Rica – Coyol Free Zone – Costa Rica
Benefits go beyond tax exemptions
Coyol Free Zone is the perfect success story of the Free Trade Zone Regime in Costa Rica. Our industrial park brings together world-class companies in a specialized cluster, thus allowing them to be more competitive and efficient.
Proof of this productive bonanza is reflected in prolific export figures each year, exceeding US$2 billion, and representing 52% of the value of medical device sales abroad, according to the Costa Rican Foreign Trade Promoter (PROCOMER).
Such results have positioned Costa Rica as the second most important exporter of Medical Devices in Latin America, only behind Mexico.
Multinational companies can take advantage of Coyol Free Zone's cluster, while also benefitting from a Free Trade Zone regime adapted to the current global trade dynamics.
The Costa Rican Free Trade Zone regime offers:
No custom duties on imports/exports, remittance tax exemptions,
8 to 12-year period of tax exemptions on the transfer of real estate and municipal licenses,
competitive tax on royalties and fees,
full exemptions on the imports of goods necessary for the operation of the company,
100% income tax exemption for the first 8-year period,
and exemptions on domestic purchases of goods and services.
Operation-booster incentives for

Direct Foreign Investment in Costa Rica

Are you looking for more information?  DOWNLOAD
The benefits may vary according to the free zone location inside the country. Companies installed outside the Great Metropolitan Area get extended returns in specific cases.
Costa Rica itself is an attractive investment destination, with longstanding legal security, political stability, an ample talent pool, and a worldwide reputation as a country in harmony with the environment.
This location is also prized for its proximity to the U.S. and European markets, with access to the Atlantic and Pacific oceans.
In such a competitive country with many perks, Free Zones are driven to offer additional benefits that increase their value proposal, and make them stand out from the rest. Our industrial park is one of those cases.
What makes Coyol Free Zone special?
We offer the ideal conditions for Life Science companies to further increase their operation value in the region. We also promote other industries, such as smart manufacturing and logistics.
It is also relevant to mention that thanks to the presence of on-site sterilization services and logistics companies in our industrial park, we enable medical devices to be exported directly from Costa Rica to different destinations around the world.
This is translated into significant savings in production, time, transportation, and warehousing, but most importantly, into increasing the quality of life of millions of patients.
These operational benefits go hand in hand with complementary services aimed at sustainable development, such as human talent training, dual education programs, smart mobility, and eco-efficiency, among others.
People who work at the companies installed in the park not only enjoy quality employment, but are also developing a career that makes them competitive in the industry.
Our goal is to provide innovative solutions for clients who positively impact the economy, their employees, and surrounding communities.
2,000 people trained to work in the Life Sciences Industry – Coyol Free Zone – Costa Rica
Courses were taught in the first half of 2023
 August. Four different initiatives developed by Coyol Free Zone enabled approximately 2,000 people to strengthen their skills and abilities to opt for quality employment in the Life Sciences industry or to specialize in their current jobs.
This Park offers an educational effort with social projection called "Coyol Te Prepara" que (Coyol Prepares You), which includes various programs to support people by providing training and employability. One of them is the Manufacturing Operator Course, offered virtually and free of charge to learn about the particular features of the Life Sciences industry, of which 1630 people have taken advantage in the first 6 months of 2023.
Historically, since its launch in 2021, the course has benefited more than 7000 people of all ages and educational levels.
A second program included in "Coyol Te Prepara" is the educational tours. It is coordinated with the educational center and companies in the Free Trade Zone to receive students from high schools and universities with careers related to the medical device industry. The objective is to hold talks and visits to companies to address topics such as the importance of soft skills, English proficiency, technical courses to strengthen their careers, and to build aspirations both in terms of studies and as an excellent place to work.
The students who have been received in this first semester of the year are from towns such as San Ramón de Alajuela, San Carlos, Sabanilla de Alajuela and Desamparados. The Coyol Free Zone companies that have opened their doors to them are: Hologic, SMC Ltda, Segex and Coopervision.
"Our outreach to nearby communities, companies and educational centers is essential for the country, not only as a contribution to our search for talent, but also as a way to promote and awaken their interest in careers related to science, mathematics and engineering, which will have a high placement rate of professionals in the short and medium term", said Carlos Wong, Managing Director of Coyol Free Zone.
In addition, the Park provided training through the National Learning Institute (Instituto Nacional de Aprendizaje, INA) for 181 employees in areas such as quality inspector, information and communication technology operator, English, occupational health, and production supervisor, among others, thanks to an agreement between the entity and the Coyol Free Zone development group.
Within the framework of the current agreement between INA and Coyol Free Zone, a technical assistance program was developed to strengthen the manual and motor skills of potential candidates for the position of manufacturing operator and to become active employees within the companies.
They are joined by a group of 145 people who work in the Free Trade Zone, and joined BachiCoyol, an initiative together with the Castro Carazo University to support Park employees to start or complete the third cycle of high school education and obtain their High School Diploma (Bachillerato por Madurez) through virtual classes.
Coyol Free Zone is also the first free zone to open its doors to Dual Education in alliance with the Ministry of Public Education (MEP). Thanks to the participation of the companies SMC Ltda., CooperVision and Abbott, the students of the Industrial Electronics technical career of the Technical Professional School (CTP) of Atenas are studying their second year alternating between school and companies, a modality that allows them to have the skills and knowledge of companies engaged in advanced manufacturing and production of medical devices.
About Coyol Free Zone
Coyol Free Zone is the leading medical device export park in Costa Rica, exporting over US$2 billion per year, which is equivalent to 30% of the exports of the manufacturing segment of the country's Free Zone Regime.
For the past four years, it has been part of the Top 10 Free Trade Zones in the World, and was named the Best Free Trade Zone in the Americas, in the Top 10 worldwide and Honorable Mention for Environmental Practices, Infrastructure and Logistics, by fDi Intelligence in 2022.
It is also the Best Free Trade Zone in Latin America and the Caribbean for the fourth consecutive year, the Most Innovative Free Trade Zone of the Year, and the Best Business Center for Life Sciences and Advanced Manufacturing, according to The European magazine.
Artificial Intelligence (AI) in the Manufacturing Industry: What does it imply? – Coyol Free Zone – Costa Rica
Nowadays, Artificial Intelligence (AI) is being incorporated into many technologies involved in the smart manufacturing process , including semiconductors, communications equipment, software applications, and platforms.
At Coyol Free Zone, we believe in AI's potential to improve the smart manufacturing industry, associated with the benefits of increasing efficiency and sustainability in many processes.
The influence of AI in manufacturing is growing, with many applications starting to change the way factories and plants are managed.
With AI evolving as a catalyst that may reshape the workforce strategies, roles, and business benefits in our industry in the coming years, all companies should be ready for the challenges related to adopting these technologies.
The current implementation of AI in the manufacturing industry
According to survey results from the "Manufacturing Leadership Council's New Industrial AI in 2030", many manufacturers have just recently started evaluating AI implementation potential.
They also have clear plans to significantly accelerate such adoption in the coming years, with 96% of all surveyed companies expecting a substantial increase in AI investment levels.
The survey shows that 57% of the consulted companies are still in the experimental phase with AI technology, to identify how it can be applied and managed, and what implications it could have for their functions.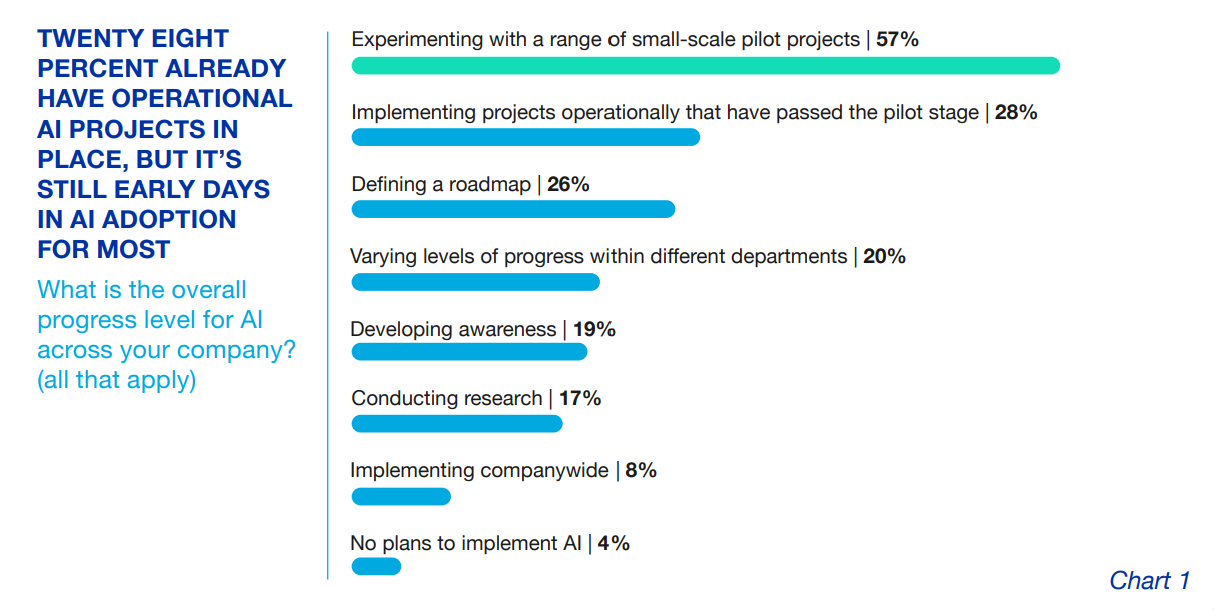 Nevertheless, a significant 28% of the surveyed companies say they are already implementing AI projects operationally, particularly in the fields of manufacturing, production, and inventory management.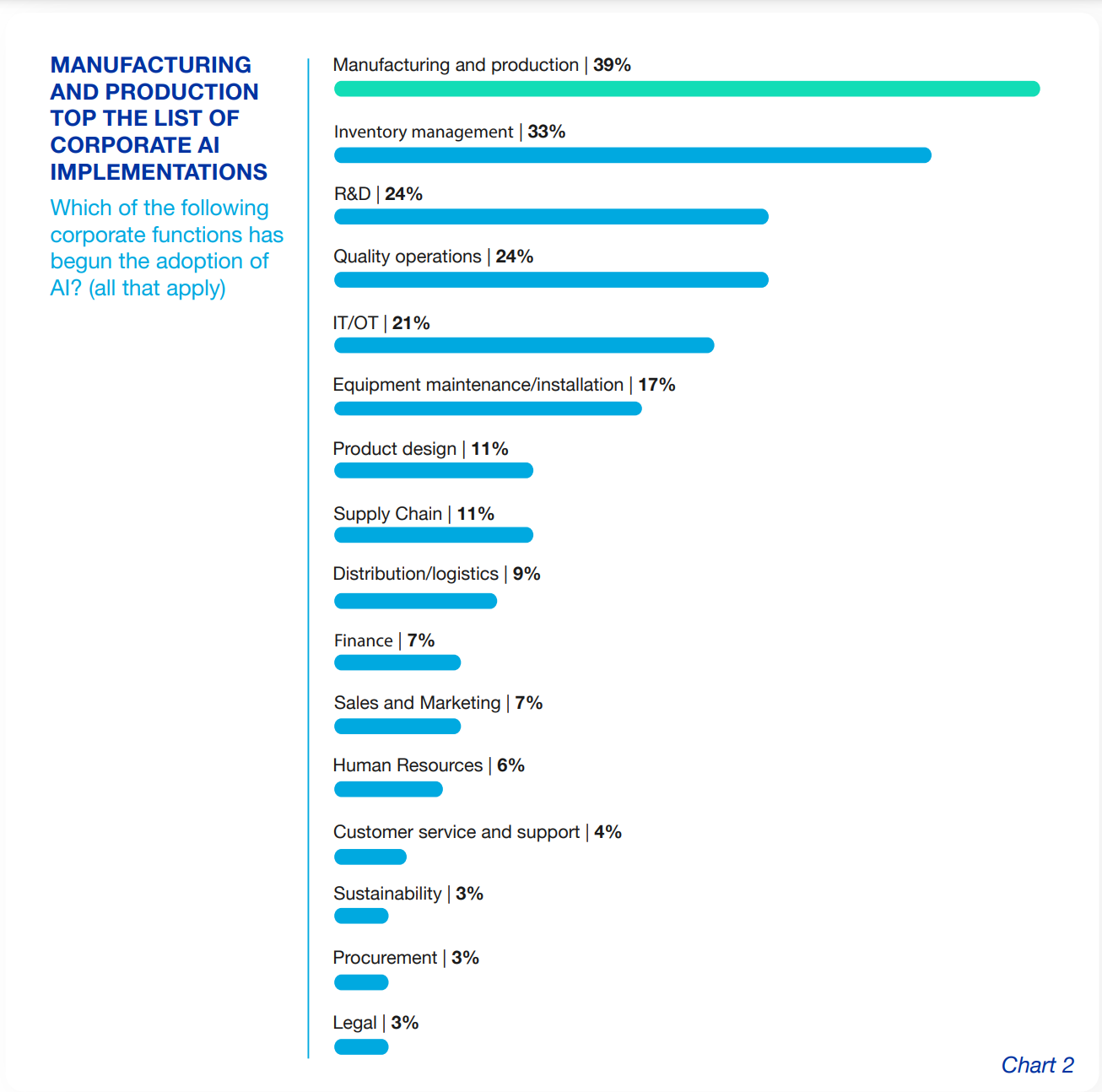 The expected implications and benefits of AI implementation in the manufacturing industry
One of the desired outcomes of implementing AI is to leverage its analytical power to optimize processes, leading to better decision-making, cost savings, improved planning, increased agility, enhanced competitiveness, and sustainability across the company operations.
In terms of benefits for production and supply chain operations, the survey results indicate that the top expected outcomes include improvements in predictive maintenance, more sustainable production operations, and process innovation.
Companies were also asked about the noticeable challenges they believe AI adoption could bring to their environments.
A remarkable 65% of the participants indicated that their main concern is data issues, which include challenges in accessing, formatting, and integrating disparate sets of data, as well as data privacy.
Other concerns mentioned in the survey were the absence of appropriate AI skills among employees, and the need to upgrade legacy equipment.
In terms of workforce impact, 45% of interviewees predict that their workforce headcount will not be affected by the implementation of AI technologies, while 32% expect these changes to increase their workforce headcount, aiming to cope with the availability of new roles in response to upcoming necessities.
Finally, when asked about how significant of an impact will AI have on the manufacturing industry in 2030 and beyond, 59% of the respondents described AI-related implementations as "very significant or game-changing for this industry."
AI manufacturing implementation in industrial park Coyol Free Zone
According to the Manufacturing Leadership Council, the key to fully maximizing the potential of the new trends of Manufacturing 4.0 is the ability to leverage the information from all aspects of manufacturing. This may not only provide a step change in efficiency, cost-effectiveness, and productivity, but also enable business model innovation that can enhance value creation.
This philosophy aligns with our vision at industrial park , where our leadership in sustainable Real Estate development in the Americas, demands us to increase efficiency standards, and guide our suppliers into providing the best quality of products with cost-effectiveness and reduced times.
Alongside our values of innovation, adaptability, and efficiency, we recognize that the implementation of AI in some of our processes will represent an asset in the future, towards our commitment to keep providing innovative solutions to world-class clients.